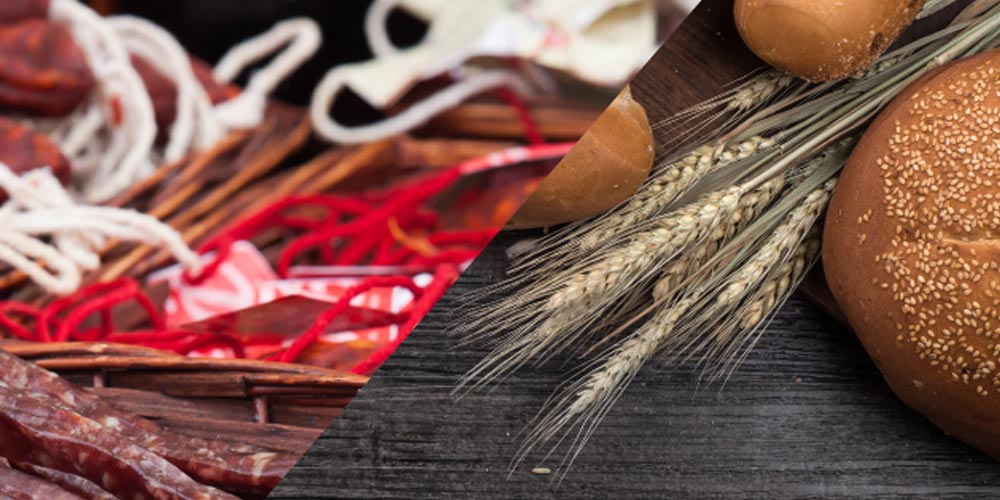 12 Jan

New Proteon Duo Milk Express
ZEULAB launchs PROTEON DUO MILK EXPRESS, an easy, rapid, and reliable test for dual detection of β-lactoglobulin and casein in foodstuff, rinse water and surfaces. Specially designed for the food industry and related businesses.
Main characteristics of the test:
Double rapid test: milk and its by-products detection in 10 min.
Versatile: valid for highly processed food.
Simple:no previous training or additional equipment are required
Economic: 2 detections with only one rapid dip-stick test.
Food allergies represent a major health problem in developed countries. Undeclared allergens as contaminants in foodstuffs suppose a high risk for allergic people. According to different studies, the incidence of cow's milk protein allergy is 0.3-7%. Milk is the first food introduced into children's diet after breastfeeding. Therefore, cow's milk protein is the first allergen which develops an allergic reaction1. Milk allergy, together with egg and fish, is the main cause of allergy in infants and children younger than 3 years-old. Although 85% of patients become milk tolerant in adulthood, 40% of children allergic to milk also develop allergies to other food and 28% to environmental agents.
The only way to avoid an allergic reaction is to stop ingesting the allergen. Therefore, providing a correct ingredient list to the consumer is of a paramount importance. According to the European Union (Annex II, Regulation (EU) 1169/2011 2,3) and other countries regulation, such as USA4 and Japan5, milk or any milk by-products must be listed in the label.
Many non-dairy products can contain milk or its by-products as ingredients, as well as being present as hidden allergens in a lot of products. Therefore, they must be monitored to ensure a correct labelling. Caseinates, for example, are used to stabilize emulsions, as well as to increase shelf life, improve nutritional content, and enhance flavors and aromas in products such as baked goods, meat products, cream soups or coffee creamers6. Regarding whey proteins, their functional properties include gelation, emulsification, foaming, flavour or aroma in products such varied as meats, beverages, breads, cakes, or soups7.
PROTEON DUO MILK EXPRESS is a double test for detection of milk by combining the presence of β-lactoglobulin (β-LG), as indicator of whey proteins, and casein showing presence of caseinates. It is an immunochromatographic test in strip format, based on specific antibodies obtained against β-LG and casein which are bound to red particles, will react with these proteins when they are present in the sample, producing one or two red test lines. In addition, a blue line (control line) indicates that the test has worked properly. Food or working surfaces containing milk residues above the limit of detection will show, two red lines. In case of samples containing either of whey or caseinates, a control blue line and a β-LG or casein red line will appear, respectively.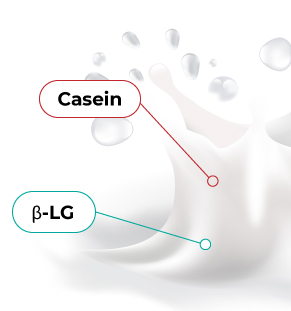 PROTEON DUO MILK EXPRESS detects the main milk allergen indicators. Therefore, it is especially useful when the source of milk in unknown, such as control of suppliers or in industries where different production processes using whole milk, whey or caseinates are carried out. Single tests targeting only one of these groups of proteins are suitable for detection of milk, but they can miss out the presence of some by-products.
High temperatures or high pressures as well as cleaning procedures with alkaline detergent can alter the protein structure. Therefore, the double detection of β-LG and casein is also recommended in those circumstances as the probability of detecting milk increases.
PROTEON DUO MILK EXPRESS has been validated, according to the guideline AOAC 2016 8,9, 10 with a wide range of matrices, including pastries, cold meat, pâté, ice-cream, infant formulas, beverages or alcoholic drinks.
1Bobe et al. (2007) Composition of Milk Protein and Milk Fatty Acids Is Stable for Cows Differing in Genetic Merit for Milk Production. J Dairy Sci. 90: 3955-3960.
2Regulation (EU) No 1169/2011 of the European Parliament and of the Council of 25 October 2011 on the provision of food information to consumers (http://eur-lex.europa.eu/legal-content/EN/TXT/PDF/?uri=CELEX:32011R1169&from=ES)
3Guidance on food allergen management for food manufactures (2013), Food and Drink Europe, Brussels, Belgium (http://www.fooddrinkeurope.eu/uploads/press-releases_documents/temp_file_FINAL_Allergen_A4_web1.pdf)
4Department of health and human services, Food and Drug Administration (https://www.gpo.gov/fdsys/pkg/FR-2016-05-27/pdf/2016-11865.pdf)
5Consumer Affairs Agency, Government of Japan (http://www.caa.go.jp/en/)
6https://www.ulprospector.com/en/eu/Food/Detail/16980/419669/Calcium-Caseinate
7http://www.milkingredients.ca/index-eng.php?id=195
8Appendix M: Validation Procedures for Quantitative. Food Allergen ELISA Methods: Community Guidance and Best Practices. AOAC 2012 (http://www.eoma.aoac.org/app_m.pdf)
9Appendix F: Guidelines for Standard Method Performance Requirements. Official Methods of Analysis (2016), AOAC INTERNATIONAL, Rockville, MD, USA (http://www.eoma.aoac.org/app_f.pdf)
10Standard Method Performance Requirements (SMPRs®) for Detection and Quantitation of Selected Food Allergens. AOAC SMPR 2016.002. AOAC INTERNATIONAL, Rockville, MD, USA (https://www.aoac.org/aoac_prod_imis/AOAC_Docs/SMPRs/SMPR%202016_002.pdf).